Ironman Port Macquarie, also known as IMOZ, is the first Ironman in Australia and the 4th oldest Ironman in the world (
after Hawaii, New Zealand and Canada
). From it's humble beginnings as the Great Lakes Triathlon in Forster Tuncurry in 1985 with about 165 competitors to over 1,500 at the start line in Port Macquarie, home to this iconic event since 2006.
Pre race
I signed up for this event while I was still living in Canada, thought it would be nice to make my Ironman return to Australia in it's oldest event and to make it even more special that it was celebrating it's 30th anniversary in 2015. It was easy enough to get to from Brisbane, about 7 hours drive. But we chose to fly, our original flight was a direct one but that got discontinued, so it changed to a short stopover in Sydney with a Qantaslink flight to Port Macquarie. The weather leading up to the race has been pretty severe, with cyclonic like storms and our little plane was being blown around it during the short flight from Sydney to Port Macquarie.
We stayed at
Ozzie Pozzie YHA
, which arranged complimentary airport pick-ups and drop-offs. We booked a room with an ensuite, it was clean and decent, and the place had a bit of a laid back cabana atmosphere that catered well for the surfer crowd. It rained most of the day and although we brought an umbrella with us, it was blown inside out by the wind. The registration and athlete check-in was in the Glasshouse Convention Centre, about 1km away. The organizers did a great job capturing the history of this event, with a grand display memorabilia since it's first year in 1985 - photo albums, posters, finisher towels, T-shirts etc.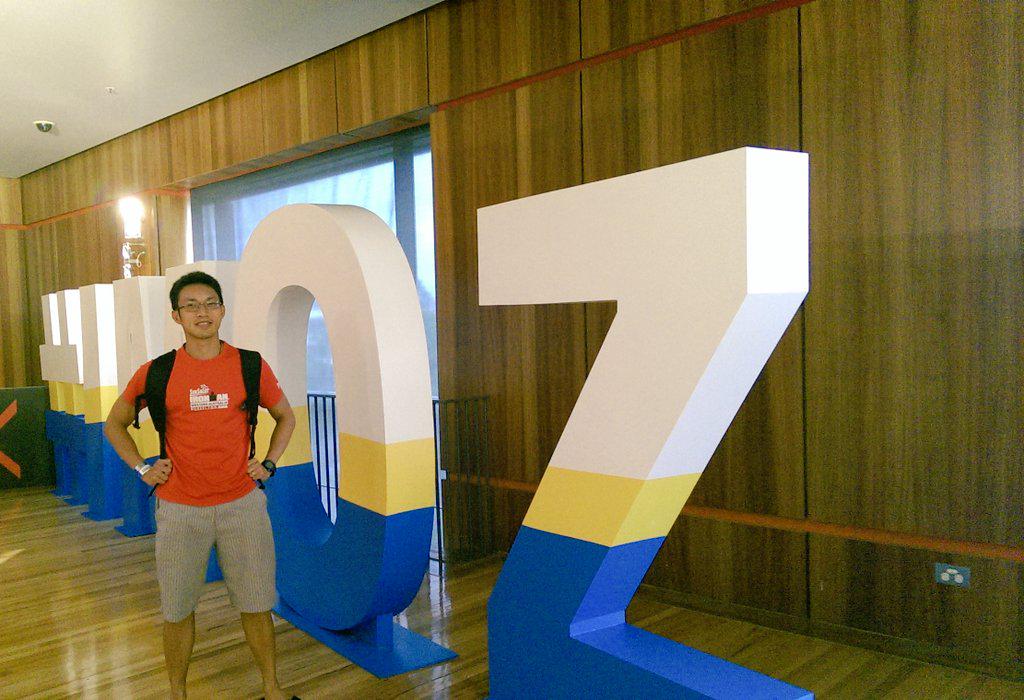 The giant #IMOZ at the Glasshouse
I tried to ride that afternoon but it got too wet and windy, so I decided to play it safe and turned back after 5 minutes. Welcome dinner got a bit muddy although we were under sheltered tents but luckily it stayed dry during the short walk to and from the hostel. The next morning, I did my practise swim the water was pretty choppy still. And pretty windy when I did my second attempt of bike practice. I managed to ride to the big hill on Matthew Flinders drive this time, didn't dare go down it with the weather conditions. The rain only started to clear up later in the afternoon. Organizers gave the option of checking in our bikes on race morning but many still checked in that afternoon.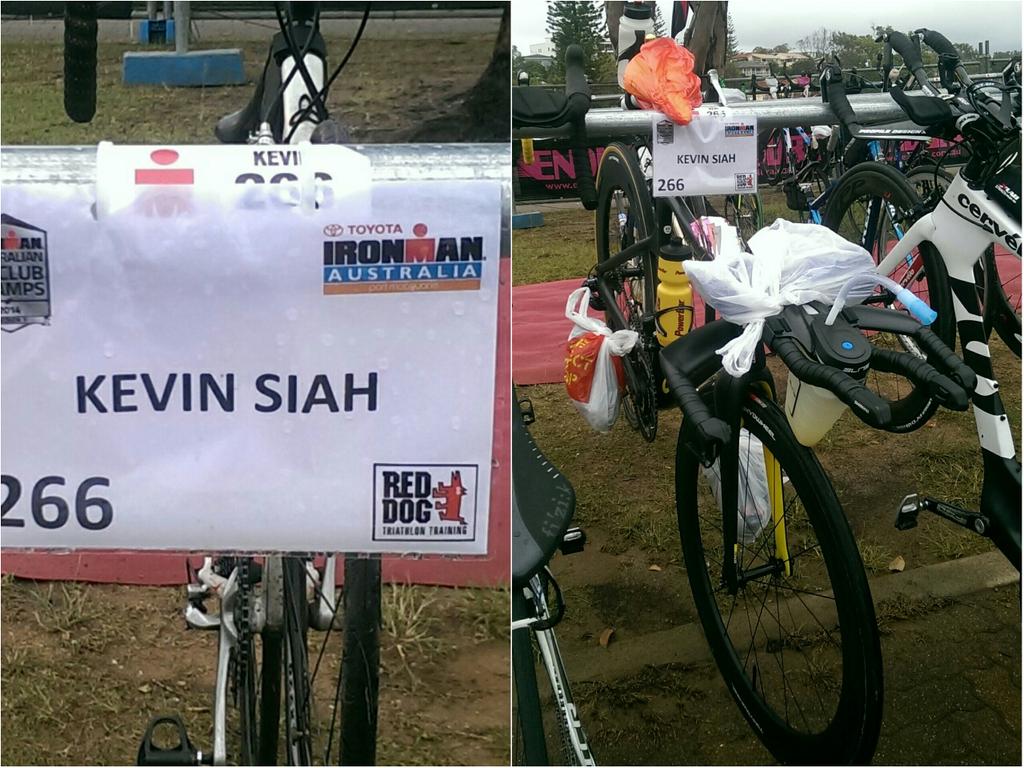 One of the perks of being part of a winning club. Now I won't be running past my spot in transition!
Race morning
One great thing about having 5am training sessions was the body started getting used to waking up at 4am. I did my usual routine and visited the toilet twice before leaving the hostel. We then took the short walk to transition. It rained again overnight but the skies looked clear in the morning. I gave my bike a quick wipe down and then made our way to the swim start, which was a few hundred meters way. It was a rolling start and I was seeded in the 1 hour to 1 hour 7 minutes gate. I had some spare time and was able to get a few hugs and kisses from Li-Ann before she left the gate.
3.8km swim
The swim took place in Hastings River, it's one lap in anti clockwise direction. It has an interesting twist where somewhere before the 2km mark, we had to climb up and down some stairs to cross the weir and do the same just after the turnaround. Water was pretty cold, about 20 degrees Celcius. But once we got moving, it was okay. Unlike the day before, the water was nowhere as choppy. There were some currents, to our favour, on the way out.
Visibility was not very good, I could barely see past my shoulders. There weren't many buoys and the boats and yachts docked along the river made it a little confusing and difficult to sight the next buoy. I got a bit off course in some occasions and it didn't help that those in front of me weren't necessarily swimming in the right direction either! But we didn't get too far off before the paddlers signalled us back to line. My first crossing across the weir was about 30 minutes and about 42 minutes for the second crossing. I thought I would be close to 60 minutes for swim and dabbled with the thought of finally going under the hour. But on the way back, we swam against the currents and that slowed me down a bit.
Came out of the water in 1:02:21, pretty happy with that as I had been swimming around the 63 minute mark for the past two wetsuit Ironman swims.
Transition 1
Quick run into transition, managed to get my wetsuit sleeves off pretty quickly but had to struggle a bit getting it off my ankles. My tri top didn't have any rear pockets, so I just slid my two Clif bars under my top, behind my back. They fell off a couple of times as I ran towards my bike, so I had to turn back to pick them up. I then tucked my top into my tri shorts and that did the trick. A slow but steady fly mount on the bike and ready for the challenging bike course. Total time 3:31.
180km bike
The bike is two laps, out and back, with a few turn around points. It goes along the coast but we only get to overlook the coast in some sections. We go down the infamous hill on Matthew Flinders drive outbound and we climb it on the way back. Some rolling hills in and out of town and then mostly flat sections after that. The weather was a complete turnaround from the days before, calm breeze with a slight headwind on the way out but tailwind on the way back. Unlike the previous days where I felt I could be blown off my bike, I felt much less intimidated and more confident descending.
That was until I got to Matthew Flinders. I thought I was prepared to go down in the calmer weather but I wasn't. I got off my bike and walked it down the hill. Felt a bit silly and embarrassed doing it, but I thought better to be safe than sorry. Once I got to the bottom of the hill, I continued cycling and thought no more about it. And then... it happened, around the 27km mark, my rear wheel felt a little bit bumpy and soon, I could hear it hitting against the ground. Yes, I had a flat tire!
Still had my rear wheel on, coming out of transition
I did my best to stay calm. Screwed off the valve extension and plugged in the sealant, hoping that it would meet the valve. It didn't at first and the foam was spraying everywhere but it soon did, and I could see the tire inflating. But it didn't last and I guess that puncture was too large to be sealed. I made it worse by dropping the valve extension into the wheel rim - DOH! I don't usually carry spare tubulars with me and this time was no different. I decided to call it quits and waited for the SAG wagon. But a roaming mechanic came and said they would bring me a spare wheel. They didn't take very long and I was back on the course again. In total, I was out of action for about 45 minutes. I felt like a superstar after that, I was overtaking those in front of me, one by one!
Hybrid wheel setup - front carbon tubular, rear alloy clincher
But that affected my momentum a bit, I was nowhere near my racing pace. I kept on thinking of poor Li-Ann who had to wait almost an hour more before I return. The climb on Matthew Flinders was quite an experience, there was a carpet for those who wish to walk their bikes up and there were plenty of supporters cheering by the side. When I got back to town, she was cheering and I briefly pointed her to my rear wheel. I stopped by special needs to get another two Clif bars, the volunteers didn't prepare it in time but I only waited a short while to get them. Once I got to Matthew Flinders descent again, I chickened and walked down the hill again - probably the only competitor who was slower going downhill than up!
Almost the end of the bike leg, coming into town
The wind picked up on the second lap and the rough road surfaces become more prominent. Even on the way back with the tailwind, I could feel my energy being sapped away from the vibrations. My average speed was hovering around the high 28kph (not taking into account the idle time) and getting slower. Finally, got back to transition with 6:53:55 bike split including the downtime.
Transition 2
Legs felt a bit wobbly but was able to unstrap my shoes and dismount with the shoes still clipped in. The mats going into the change tent were a bit wet and I contemplated changing my socks but decided to keep the same pair on for the run. No big dramas here but I took the time to ensure that the volunteer packed my helmet away before leaving the change tent. Time taken 1:31.
42.2km run
The run course is 4 laps, mostly flat with one short but steep climb just after the first km out of transition. It goes along the main event area with plenty of support from the crowd. The Red Dog club members were cheering just after the big hill and I soaked up the atmosphere. Li-Ann was cheering as I just started my run and she was at the same spot after I made the turnaround so I was able to see her quite often. After such a long day, I wasn't sure how I was to approach the run. My legs felt good as I ran out of transition, turnover was quick and my upper body felt relaxed. I was running past those in front of me and some sections were narrow and slippery especially on the grass areas, so that got a bit tricky.
The Garmin picked up a signal very quickly, even before I left the change tent, to my delight. My first few kms were around the 4:45 per km pace and once the excitement wore off, I slowed down a bit but still keeping it well under the 5:00 per km pace. I didn't feel the need to walk at the aid stations and I was going to see how long I could maintain that. Surprisingly, I did that for the first two laps.
I'm happiest during the run
On the 3rd lap, my bladder was filling up and I was desperate to use the portaloos at the aid stations but they were always occupied. Finally, I decided to break my rhythm at one of the aid stations, slowing down to a walk so that I could ease myself as I walked through it and splashing water down my legs to clean myself up. I didn't completely emptied my bladder and a couple of aid stations later, there was a vacant portaloo, I raced into it and peed to my satisfaction - that was 45 seconds well spent!
Crossing the bridge that had 2 way traffic
I felt much better after but my legs were starting to get tired. My pace slowed down a bit to the 5:30 to 5:40 per km pace. The sun has set and it was getting dark. It started raining too and I no longer needed the water splashes over my head to keep myself cool. The volunteers began handing out glow sticks but my ego got the better of me and I declined taking them - never used them before, didn't intend to start now!
With about 4km to go, I knew the end was near, so I picked up my speed bringing it back to the 5:10-5:15 per km pace. Got to the intersection where the left goes for another lap, and the right goes into the finishing chute. The feeling was electrifying and I bawled my eyes out as I ran past the roaring crowd towards the finisher arch. In all my previous Ironmans, I've always wanted to shed a tear but I couldn't. This was clearly an exception and to top it off,
FirstOffTheBike
captured this special moment in 50th to 65th seconds in the video below.
My run split was 3:32:46, giving me a 2.5 minute PB over the Ironman run. I finished in 11:34:04, my second slowest time ever but one I felt a greatest sense of achievement in getting to the finish. I was 49th in my age group and 430th overall.
The finishing mat was wet from the rain, but I did add some tear drops to it
Post race
I didn't spend much time at all in the athlete recovery area as I was looking for Li-Ann. We caught up shortly after and went back to the room for a quick shower and then some Chinese dinner. It rained heavier that night and I decided to leave it to morning to collect the bike. We flew back to Brisbane the day after the race. Catching connecting flights with a tight transit time on wobbly post Ironman legs was a funny experience, if it wasn't so painful. My bike got offloaded the Port Macquarie outbound flight as there wasn't enough space but it got delivered safely to my office the next day.
So my 8th Ironman finish, done and dusted. It doesn't get any easier for sure. Massive thanks to my supporters back home -
Compressport Malaysia
,
Lifeline-ID
and
Team H2C Boardman Malaysia
for making it much easier for an amateur triathlete to keep on racing. The fun bunch at
Red Dog Triathlon Training
for keeping me honest in the sessions and for the cheer squad on the race course. Mum, dad, Karen and Keith and everyone back home sending well wishes and support messages and keeping me strong on the course.
Finally and definitely not least, my personal photographer/caddie/cheerleader/chef/masseur - my wonderful wife Li-Ann for putting up with me despite this crazy lifestyle of mine and being me in all of these events with such dedication. You are my pillar of strength and I owe my finish to you. I love you...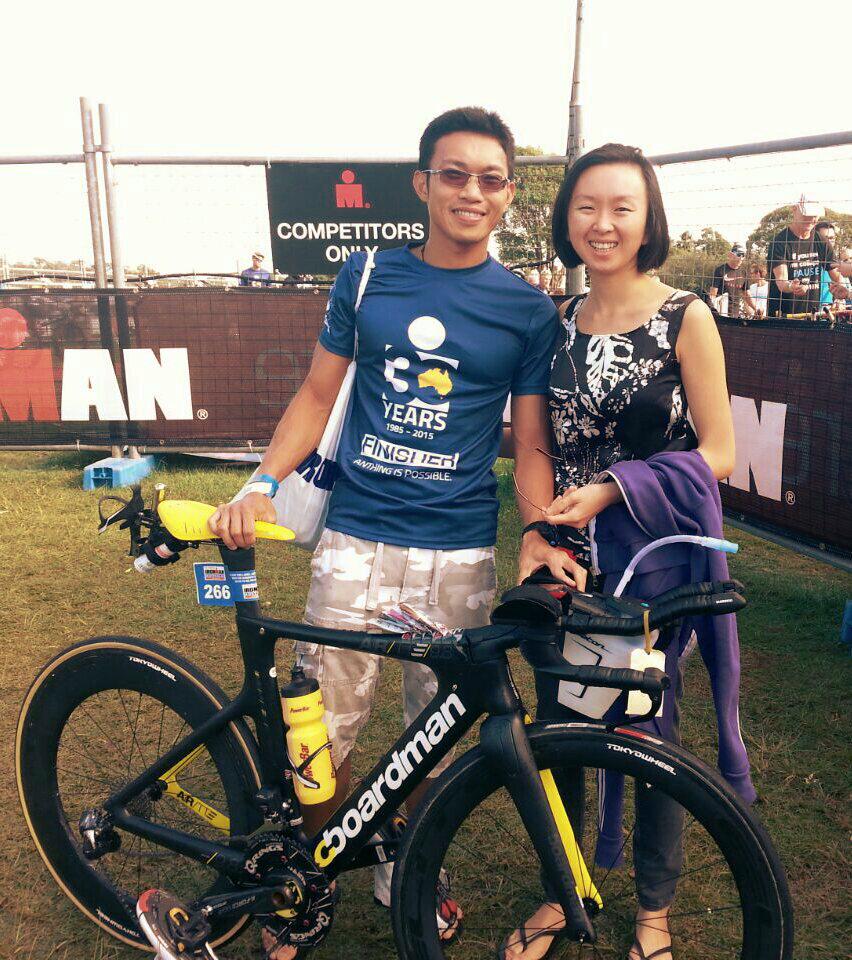 Looking forward to a month or so break, of train as I like before starting back again for Ironman Malaysia in November.