To be honest, when the club first announced the Day for Dani Fundraising Swim, I didn't take much notice at first. Coupled with the fact that it was on the same day as the Gold Coast Marathon, which I would be doing the half distance. When I found out that there were two sessions, one later in the afternoon which I could still make it for, I was pretty keen.
Dani (
short for Danielle
) was a member of our Red Dog tri club and was involved in a cycling accident couple of years ago. Her injury was permanent and she is now in a wheelchair. It was great for the club to put on this initiative each year. And hopefully, with the proceeds raised, it will help make Dani's life a little bit easier.
I thought I would give the solo 100 x 100m a shot. The furthest I have swam during my competitive swimming days, way back in my late teens, were 2 to 2.5 hour sessions and these reached just over 7kms at most. Most of the time they were about the 5 to 6km mark. If I am successful, this would be something nice to tick on my bucket list.
It was nice and sunny when we started at 2pm. There were about 30 or so of us at the pool at the afternoon. We were allocated to the lanes according to our respective speeds. The lane I swam in held the 100m cycles of around 1:50 to 1:55 including rest times. And after every 1km or so, we took extra rest to refuel and some lollies were brought around to give us extra energy! There was a young boy, about 10 years or younger, who put in a massive effort and did a fair bit of leading. I took over towards the later stages to take the pressure off him a bit.
It was hard at first. By the 3rd km, I thought I was about done. But I kept pushing. Having a few others in the pool definitely helped. After the 5km mark, it got a bit easier mentally as we were halfway through. But here's when many began to stop swimming and getting out of the pool. So it got a bit quiet. A handful of others stayed on, so they kept me company.
Towards the final km, there was only myself and another girl who were still swimming. Some of the faster ones have already completed the solo 10km. It got a bit scary as the sun was beginning to set and the pool was being prepared for closing. The pool covers were being put on the lanes next to us so they were all dark except for our lane. The meme below kept playing at the back of my head!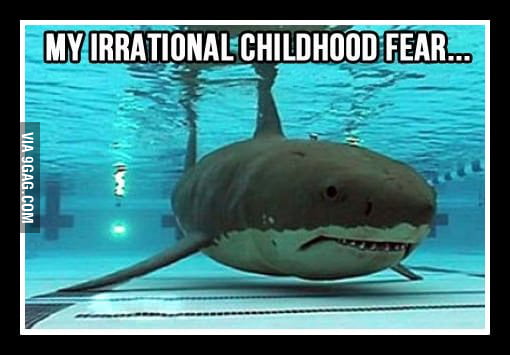 C'mon... I'm sure you had this fear too... that a shark will magically appear in the middle of the swim pool!
But we finally got it done. Finishing the last lap was a bit anti climatic as most people have left but it was no less satisfying. The time I recorded was 3 hours 9 minutes. My arms were sore and I had chaffing on my armpits. But I think the longer lasting effect was the dry skin from being soaked in chlorinated water for so long! Until today, I'm still scratching myself despite applying heaps of moisturizer! Having said all that, I'm proud I did it and it was my small contribution to Dani.
Hope that any upcoming Ironman swims would feel much shorter now in comparison!